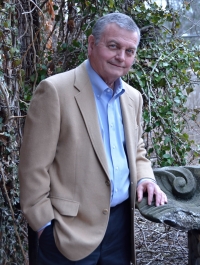 It's All in the Game
By Carl A. Flecker, Jr.
Published by Word Association Publishers
A Crete Sloan Novel — Book 6

An international mercenary, Crete Sloan. A kidnapped Damsel. Oil leases up for grabs.

Crete Sloan is out and at 'em again. This time to the happening city of Baku, Azerbaijan and the oil fields of the mysterious Caspian Sea. There, to search for the kidnapped daughter of oil baron Frank Marcella. A job that will take him to hard places and shove him unwittingly into contact with savage lowlifes.

Along the way, Sloan trips and falls into the seductive arms of the of the passionate CIA agent Lisa Bender. Together, Sloan and Bender set out to find the kidnap victim, but find instead, two international bad-to-the-bone tough guys. The bad boys want the romantic couple off the case. Permanently. When they demonstrate their intent in a reckless and brutal episode, Sloan's relationship with Bender is cast in a new light.

With their relationship hanging in the balance, Sloan and Bender are challenged to solve the kidnapping in Baku and just as importantly to save their troubled romantic relationship. Are they up to it?

It's All in the Game is a fast-paced mystery thriller guaranteed to keep you page turning.
Paperback | 978-1633853096 | June 18, 2019